SoCal and Arizona Live Sound Services
We specialize in providing the best mix of audio equipment for your live sound event. From handling the needs of corporate meeting planners to national musical artists, we handle it. We cover the whole spectrum of live sound events: from setting up two speakers, to planning multiple line array speaker systems for arenas or stages in-the-round.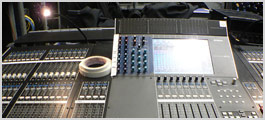 Utilizing state-of-the art sound equipment and acoustical prediction software, our staff will deliver the right mix of personnel and systems to ensure that your audience hears your message loud and clear.